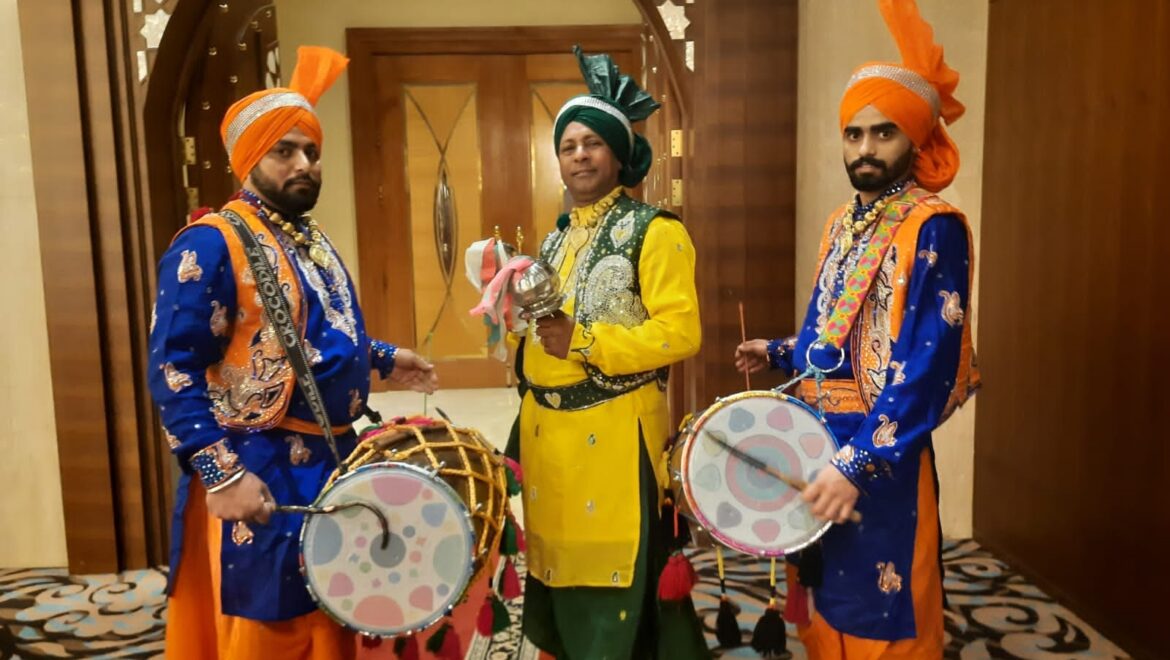 The Indian culture has a significant impact on foreign countries, Dubai is one of the cities hugely influenced by the Indian culture, as estimates predict that almost 38% of the population in Dubai consists of Indians, and it is practically the home of 100,000 Punjabis.
Punjabis and other Indians living in Dubai always prefer to induce the typical Indian culture in their family activities, such as birthdays, engagements, marriages, and other functions, creating a prime need for dhol players in Dubai.
Yes, you heard it right, the demand for Dhol players in Dubai has significantly increased, as there are many Indian migrants from different parts of India accommodated in Dubai. North Indians, South Indians, Punjabis, Gujritis, and Bengalis all living in Dubai prefer to follow the Indian tradition and celebration style, and every Indian celebration is incomplete without a team of Dhol players in Dubai, who are the Indian form of music in engagements and marriages.
Origination of the Dhol?
The existence of the instrument Dhol can be traced back to the Gujarati culture of medieval India, where the folks played Dhol on the days of Navratri to accompany Garba. Various songs and dances were performed while playing Dhol.
Because the Dhol was also played by North Indian civilizations and is most popular in the state of Punjab, where the ancient Bangra dancing style originated, it is still difficult to pinpoint exactly where the instrument originated.
A simple Dhol is made of cotton, leather, wood, brass, and parchment, accompanied by two wooden sticks and a strap to tie around the neck. The instrument does not require an electric connection and is thus very portable. A main reason why Dhole players are becoming popular in Dubai is how versatile the instrument is.
The people who play the Dhole are often referred to as Dholi" and are played in many Indian cultural folk dances, such as Garba, Bhangra, and Pashtun dance. In modern times, Dhole players in Dubai are growing in popularity.
Dhole Players For Bhangra Dances
When Dhole and Bhangra, an Indian folk Punjabi dance that has developed over generations, combine, the result is an ideal Indian traditional music dance style. The Dhol's beats and rhythm produce a potent sound that inspires the Bhangra dancers.
Further, the instrument Dhol is so versatile that its bass, rhythm, and sound adapts well with the Bhangra dancers because it can produce many different sounds, be played rapidly, or the tempo can be slowed down according to the dance moves, The instrument also complements well with the Bangra dancers.
Bhangra and Dhol have huge cultural and traditional significance when it comes to Punjabi celebrations, engagements, marriages, and parties. As it has been an expression of celebration and a sign of the culture and pride of the state of Punjab, cheering the happy spirits of Bhangra has been a component of Punjabi folk culture that can be attributed to its historic agricultural achievements.
What is Bhangra?
The state of Punjab has its own dance form known as Bhangra, whose origins come from the roots of Panjab, when the farmers expressed their joyfulness towards successful agricultural activities by dancing to strengthen their relationship with the agricultural land. The dance style is strongly associated with the Vaisakhi festival. Gidda and Bhangra are both closely related dance forms of the Punjabis.
Why Dhol Players in Dubai are growing popular?
Dhol is a versatile instrument, it can be used to play many musical rhythms and gives you that desi Indian feel.
Most of the Indians living in Dubai are still in love with traditional Indian music, be it Punjabi, Gujarati, or South Indian. All Indian cultures see Dhol as an ideal instrument for parties, engagements, weddings, and dances.
The growing Indian population in Dubai & across the UAE has a huge impact on the demand of Dhol players in Dubai. Many Indian celebrities choose Dubai as their wedding or function destination, where at parties often Dhol, tabla, flute, and many other Indian instruments are played. 
At the same time, Indian dances are much preferred in weddings and engagements, creating a prime need for Dhol players, Further, the instrument is so versatile that many dance forms and steps can be practiced on different Dhol beats.
The DJ nights and EDMs are popular, but Dhol, along with Indian music & dance forms, is still preferable, especially for Punjabi and Bhangra lovers living in Dubai.
Dhol Bhangra is a top team for Dhol players & Bhangra dangers in Dubai that provides you with the most affordable Dhol players in Dubai at affordable prices.
Affordable Dhole Players in Dubai
Dhol is an instrument adored and cherished in every Indian culture. Further,  DJ nights are a modern trend, but adding up the lights, and other expensive items, the cost skyrockets.
The Dhol players are comparatively more affordable, budget-friendly, and value for money. You can hire a team of Dhol players for half the cost of hiring a DJ for a party.
Dhol players for Weddings in Dubai
The growing influence of the Indian population in Dubai has created a need for Dhol players in Dubai. As Indian engagements and parties are strongly rooted in Indian cultural dance forms, the dhol, accompanied by other Indian instruments, is the only idea for a typical Indian wedding.
Finding the Best Dhol Players in Dubai?
Every Indian wedding would be lacking without traditional Indian music and dance, and the music of Dhole completes this Indian dance form. 
The top Dhol player provider in Dubai, Dhol & Bhangra, offers Dhol players & Bhangra performers for Indian parties, engagements, weddings, and a variety of other events.
We are a group of skilled Dhol players in Dubai who specialize in Punjabi folk music and supply skilled Bhangra dancers for Punjabi weddings. We also play the best beats and Indian dance styles on the Dhol, making sure you have a completely satisfied experience with our Dhol & Bhangra services, Feel free to get in touch with us today as we can help add that Desi Tadka to your special occasions.
Our team also plays Dhol for other Indian cultural occasions such as Gharba, Diwali, Holi, and other Indian festivals, Our services are affordable and completely value for money, as we are the best Dhol players in Dubai.